From Bases to Billboard: CEO Carl Crawford Rebuilds his Team at 1501
Houston, TX– CEO and Founder of 1501 Entertainment, Carl Crawford, made his way to fame as a major league baseball player, in 1999. Carl was a huge commodity to the world of MLB. He started his professional career with the Tampa Bay Devil Rays where he became Most Outstanding Rookie, a four time All-Star, a Silver Slugger Award winner and Gold Glove Award winner in 2010. Later Carl joined the Boston Red Sox as a free agent in which he was later traded to the Los Angeles Dodgers before retiring in 2016. Since then, the multi mogul has invested most of his time with his family and funds into 1501 Certified Entertainment, founding label of mega artists like Megan Thee Stallion and Erica Banks.
---
"You know after having a great career playing baseball I wanted to invest my money into something that I loved and would put my city of Houston on the map." Stated Crawford. "That's how 1501 came about. I love music so much that I hired a friend as a business partner who knew the industry more than I did and we started investing in artists around the city."
1501 Certified Entertainment
---
In 2016, 1501 Certified Entertainment came into full effect to help develop underground and underprivileged artists surrounding Houston, TX. Starting off, the label had a few ups and downs, it wasn't until 2017 Carl discovered Megan Thee Stallion on YouTube that the label found their diamond in the rough.
STALLI FREESTYLE
"When I came across Megan on YouTube I knew I had to have her at 1501. She was so raw and an undeniable star in the making." said Carl. "At the time I gave my business partner some cash and said do whatever you have to get her to sign with us; She's it. I admired everything about Megan…still to this day I think she's a force to be reckoned with. She is truly a one of a kind artist."
First project
In 2018, the deal was done, Megan Thee Stallion signed to 1501 Certified Entertainment as their new lead artist. 1501 released their first project together entitled "Tina Snow". In 2019, "Big Ole' Freak" charted on the Billboard 100 putting Megan and 1501 in the big leagues as the new powerhouse indie label. In April of 2019 the label added another sensation to the label, Erica Banks, in which she released her viral hit "Buss It" creating a new wave of tik-tok influencers.
The Team
---
From there Megan, Erica, and 1501 have gone multi gold, platinum, a few #1s and 3 Grammys with "Savage" (remix) featuring music icon Beyoncé Knowles-Carter. "With Megan I learned so much about the music industry. The good, the bad, and indifferent. I was very ignorant to a lot of things coming into the game," Crawford mention "but we had a successful run. Ultimately, we both did our big ones. Today, I've built a new team around me. I'm constantly being educated on do's and don'ts so that the label runs as smoothly as possible. I owe it to everyone on the label to pull in the best so that they can also reach their full potential as an artist. I'm so proud of Erica Banks for holding it down. She's been a great asset to me and 1501. She has a lot to look forward to, along with our newest artist 1amJokerBaby."
Members
The new team includes CEO of The Luxury Group – Kai "Verse" Tyler aka Cloth as President of 1501 Certified Ent., marketing and ad expert – Jens "The Guru" Elmera as President of Digital Marketing, CEO of The Durand CO. – Eric "Trey" Durand Harris III as Director of Publicity and Media Relations, Darrian Smith as Director of Artist Development, and serving in continuum in Business Operations will be Onyx Nance.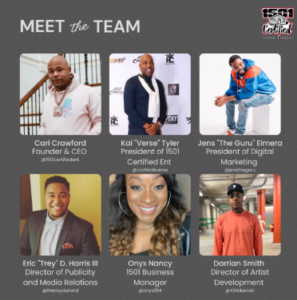 For more information on upcoming 1501 Certified Entertainment events, music release dates, and artist showcases please go to: https://www.1501ent.com/
For all Press and Media inquiries:
Trey Harris | Director of Publicity and Media Relations – 1501 Certified Ent.
Email: [email protected] 
Phone: 404-940-8316