Meet The Multi-Platinum Producer, Tito Tahan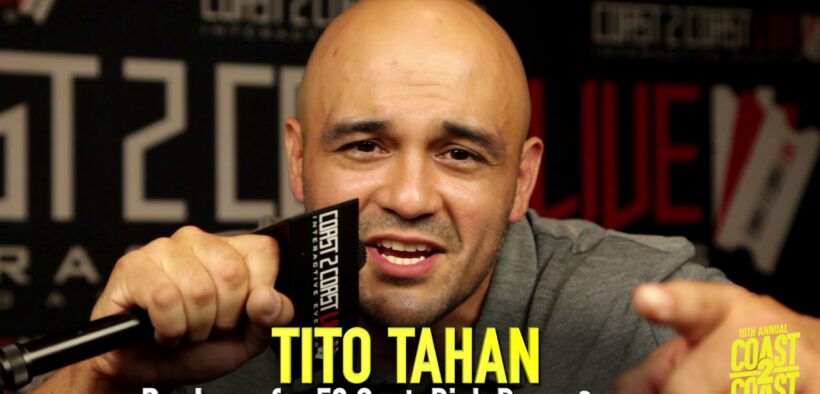 Tito Tahan is an American multi-platinum producer, sync licensing expert, entrepreneur, author and keynote speaker. Tito is most known for music production with TV networks and production companies like BET, MTV, VH1, OWN, HBO, Lionsgate, etc. He advises celebrities, entrepreneurs & musicians to help them navigate successfully through the music industry by utilizing professional & personal development programs focused in creativity, marketing and business. Tito Tahan has been featured in Yahoo Finance, FOX News, CBS, NBC, Market Watch, and other top-tier publications.
Born
August 5th, 1980
Age
42 years
Birth place
Lorain, Ohio, USA
Nationality
American
Education
Full Sail University (2014-2020)
Occupation
Music Producer, Entrepreneur
Early life
---
Tito Tahan was born in August 5th, 1980 in Lorain, OH. His mother is Peruvian and father is a Puerto Rican.
The Beginning
He started playing piano at a very young age, he also wrote several rap songs while he was a kid and made DJ with neighbor friends.
Robbery attempt
He has survived a robbery attempt while he was a teenager. He was shot five times including the left side of his head, left ear, left shoulder, left-back, and right arm.
Education
---
He transferred from Southview High School to Lorain High and finally to Clearview High School where he dropped out in 12th grade. Years later Tahan completed his General Educational Development (GED), and studied at Allstate Barber College and would later move to Cleveland, Ohio to open his first barber shop.
Full Sail University (2014-2020)
Career
---
Tahan started his musical journey in 2010 by producing a few promotional records for platinum recording artists including 50 Cent, Rick Ross, and 2 Chainz to give some examples.
Mixtape
In 2011, he worked as a mixtape Dj and graphic designer with Dipset president and CEO of 730 Dips – Freekey Zekey, they both released a collaborative mixtape titled – Best of 730 Dips.
2012
In 2012, Tahan worked as an A&R, music producer, and creative director for Iceman Music Group, distributed by Entertainment One (eONE). He contributed to projects for artists such as Onyx, JR Writer, Vado, and more. He also worked with Coast 2 Coast Live, traveling across the nation as a showcase judge, mixtape dj and keynote speaker; looking for unsigned musical talent.
2013
In 2013, Tahan teamed up with co-founding member of D-Block, J-Hood, they both released a collaborative mixtape titled – "Featuring Hood .
2014
In 2014, he rebranded from Ohio Super Producer, Super and IamTheRealSuper and began to perform under his current stage name, Tito Tahan.
2015
In 2015, Tahan founded ProducerLife, a multi-media production company, record label and music library. During this time, he collaborated with six-time BMI award winner music composer Kurt Farquhar and produced music for several TV shows and films, including Real Husbands of Hollywood, Being Mary Jane, Zoe Ever After, Hollywood Divas, Single Ladies, Keyshia Cole: All In and MTV2's Guy Code and many more.
Did You Know…
By 2021, Tahan has established himself as a multi-platinum record producer, sync licensing expert, investor, author, entrepreneur, and keynote speaker. In January of 2021, he signed his first artist Little Bandjo who recently rebranded to Bravenn Dehill in April 2021.
He has survived a robbery attempt while he was a teenager.
Discography
---
Best of 730 Dips (2011)
Mixtape Session 4 (2012)
Featuring Hood (2013)
Powerful Musik (2013)
Hated (2013)
Wake Da Fuck Up (2014)
Film-score
---
| Year | Title | Notes |
| --- | --- | --- |
| 2014 | Eric & Jessie: Game On | music producer – 2 episodes |
| 2015 | My Favorite Five | music producer |
| 2015 | Being Mary Jane | music producer – 1 episode |
| 2015 | One Bad Choice | music producer – 1 episode |
| 2015 | Keyshia Cole: All In | music producer – 8 episodes |
| 2015 | Guy Code | music producer – 3 episodes |
| 2015 | R&B Divas: Los Angeles | music producer – 1 episodes |
| 2015 | Single Ladies | music producer – 2 episodes |
| 2015 | Jump! | music producer – 1 episode |
| 2015 | Sister Code | music producer |
| 2015 | Hollywood Divas | music producer – 2 episodes |
| 2016 | Here We Go Again | music producer – 3 episodes |
| 2016 | Zoe Ever After | music producer – 2 episodes |
| 2016 | The Perfect Match | music producer |
| 2016 | The Next :15 | music producer – 6 episodes |
| 2016 | Cleveland Hustles | music producer – 8 episodes |
| 2015-16 | Real Husbands of Hollywood | music producer – 5 episodes |
| 2017-21 | Keeping Up with the Kardashians | music producer – 13 episodes |
| 2017-20 | Love & Hip Hop: Atlanta | music producer – 5 episodes |
Keeping Up with the Kardashians (TV Series)

---

Year
Title
Notes
2011
Winners Take All
music producer
2021
Beginnings and Endings
music producer
2020
Things Fall Apart: COVID-19
music producer
2020
Happy 40th Birthday, Kim!
music producer
2020
Fights, Friendships, and Fashion Week, Part 2
music producer
2020
Fights, Friendships and Fashion Week Part 1
music producer
2018
Mime Over Matter
music producer
2018
My Mother's Keeper
music producer
2017
When It Rains, It Pours: Part 2
music producer
2017
When It Rains, It Pours: Part 1
music producer
2017
The Aftermath
music producer
2017
Paris
music producer
2017
Time to Dash
music producer
Black Lightning (2018-2021)

---

Year
Title
Notes
2021
The Book of Ruin: Chapter Two: Theseus's Ship
music producer
2021
The Book of Ruin: Chapter One: Picking Up the Pieces
music producer
2018
LaWanda: The Book of Burial
music producer
2018
LaWanda: The Book of Hope
music producer
Love & Hip Hop: Atlanta ( 2017-2020)

---

Year
Title
Notes
2020
Episode #9.16
music producer
2017
In Due Time
music producer
2017
Frenemies
music producer
2017
Sister Wives
music producer
2017
Who's Your Daddy
music producer
Love & Hip Hop: Miami (2018-2020)

---

Year
Title
Notes
2020
Pressing Forward
music producer
2020
Homecoming
music producer
2018
Good Hair
music producer
2018
Forbidden Fruit
music producer
2018
Welcome to Miami
music producer
Love and Hip Hop: New York (2017-2020)

---

Year
Title
Notes
2020
Baby Mena Drama
music producer
2019
Zip It
music producer
2018
St. Maarten – Part 1
music producer
2018
Single No Mingle
music producer
2017
Catfished
music producer
2017
Streets Are Talking
music producer
2017
Reckless
music producer
2017
Rubbed the Wrong Way
music producer
Love & Hip Hop: Hollywood (2017-2019)

---

Year
Title
Notes
2019
Oh Mama
music producer
2017
Spirit Animal
music producer
2017
New Bae
music producer
2017
Girl Fight
music producer
Ambitions (2019)

Year
Title
Notes
2019
Giving Up
music producer
The Quad (2017-2018)

Year
Title
Notes
2018
#HollerIfYouHearMe
music producer
2018
#March
music producer
2018
#IAmNotYourNegro
music producer
2018
#InLoveAndTrouble
music producer
2017
#MuleBon
music producer
Profiles
Additional Profiles
Web links